The answer to that question is simple. A rug is the center piece for your baby's room. It doubles as the focal point of the room and it anchors the room together. It needs to have meaning, whether you are decorating an entire room with a theme or adding in one special piece of furniture. When you design your own rug, it becomes more personal and meaningful than anything else out there on the market today!
Think about it- how many things in your home have been made just for you? A one-off piece. Let me take you one level deeper- how many things in your home have been made in consultation with you? With your choices or preferences? You could probably count them on your fingers, if that, right?.. Same here. We live in a fast paced world where everything is mass produced. There is nothing really that unique anymore. With a custom designed rug, you're giving your child that very unique special gift that will remind them of how unique & loved they are! Not to mention all the cute photo-ops they'll have with it!
Also, If you're planning on having more kids in the future, this is especially important because now they'll all have their own space that they've helped create together! And when they're older and want to redecorate their rooms themselves, at least then they know what kind of style or colors work best for them! They'll also have something from their childhood that is theirs alone - no one else's! Though I think we've rushed ahead of ourselves, let's reel back in, I know you're not ready for your baby to grow up yet!
What are the benefits of getting a custom nursery rug from ChildBeWild?
In a nutshell:
Experience the joy of having something made just for you
Free Design Customizations
Free Unlimited Proofs
400+ Happy Parent Reviews
But let me elaborate some more:
A custom nursery rug is the perfect way to make your baby's room feel like home. At ChildBeWild, our rugs can be made in any color & design you want! You can even pick from one of our 300+ ready designs! Now that we've established how important a rug is in a nursery, it begs the question- how do you choose the right one? Picking the right design can be so overwhelming. Do you go with something modern or traditional? What about the theme of the room? The colors of your walls? There's so many factors to consider!
Luckily, there's one thing that will never change-your baby. That means they'll always be their little self and want to interact & explore their environment. So make that an important factor in your decision making process. But the process of choosing a rug for your nursery is a time intensive and sometimes overwhelming task! There are so many options and colors to choose from that it can be hard to narrow down the perfect choice.
Picking the right design can be overwhelming. Do you go with something modern or traditional? What about the theme of the room? The colors of your walls? There's so many factors to consider!
This is where we come in! With so many decisions that need to be made with the arrival of a baby, let ChildBeWild make getting your perfect rug, a fun experience rather than a compromise. One of our customers, Sarah.H had this to say:
"I have been looking for a sophisticated woodland animal rug. All the big box ones seem too cartoony and so I kept going for a Turkish rug, but my husband wanted a more nursery rug, and then we found you!"
And so we beg thee- don't compromise your dream nursery for a big box generic rug when like Sarah said- you can get a sophisticated, modern nursery rug from ChildBeWild!
Custom design options galore!
We already have over 300 designs to choose from, including beautiful floral patterns, adventurous animal prints as well as more modern options such as geometric shapes with a healthy dose of fun, bright colors. In addition to that, we can create designs to match your vision & your child's personality and needs! And here's where you can really hit it out of the ball park and make your child's room totally unique- have the rug personalized with their name from ChildBeWild!
It's super simple! Answer this one question- do you have an idea or theme in mind?
If your answer is YES!
Then browse our website to see if you find something you like. If you do- great! If not, you can also request to have changes made to a design that's close but not quite there. Maybe you need to switch up some elements, change out the color or personalize it. You can do all of that with our handy-dandy feature of "Request a Free Proof" And yes- it's free-no catch.
If your answer is NOPE.
Not to worry! Contact us through our form here, where we take you through a fun five minute quiz, get some information and head off to the drawing board. We then send you a design proof and we can go from there! Again, there are no additional charges for our design services & no obligation to purchase!
Try out a custom rug for your child's nursery today!
Nursery rugs are a staple in most nursery décor projects. They're a go-to accessory in creating a beautiful focal point that anchors the room together. There is a lot of options out there, but the one thing that sets a custom nursery rug apart from mass produced rugs from big box stores, is the ability to be designed to fit any decor or theme you have going on in the room. It's a wonderful way of having a room that is truly unique and special to your child. I'm sure you have some questions- so get in touch with our team and let's get you that beautiful rug your nursery deserves!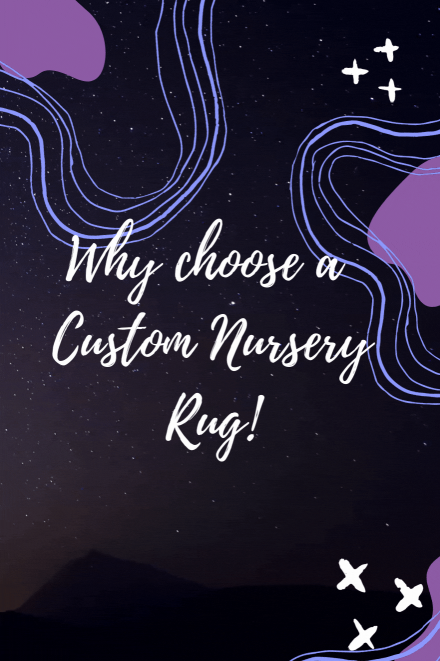 Sophia Gandhi

Welcome to ChildBeWild.com, where we design beautiful, meaningful decor for babies & kids. Our blog here is a design playground where I explore concepts and ideas around building spaces for our young ones! I'm also Mama to a sprightly 11 year old who is the inspiration behind everything you see on ChildBeWild!