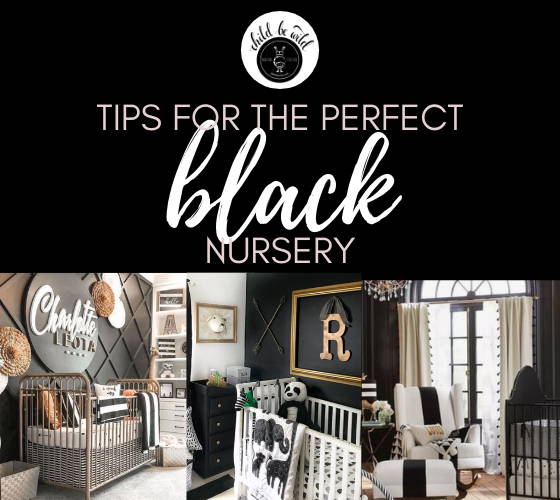 I know what you're thinking.
"A black nursery? Seriously?! Isn't that a little… dark and depressing?"
Here's the thing. We as a society have been conditioned into to thinking that a babies nursery - and the space that you will be spending a good chunk of the first year of their life in - needs to either be bright and fun, soft and neutral, or only have very pale and gentle tones in it for it to be "appropriate" or done "correctly".
As soon as you suggest going outside of the box and choosing to make a bold, dark colour the focal point of the room, you start to get people asking you the question above. And I mean, to an extent, it's a fair question. It's normal to question the unusual and be curious about the reasons why.
BUT if executed correctly with the right balance of light so it doesn't start to look more like a cave than a babies nursery, you can take black from being terrifying and uncomfortable to being bold, glam and gorgeous! If you're ready to take the plunge and try something new, keep reading!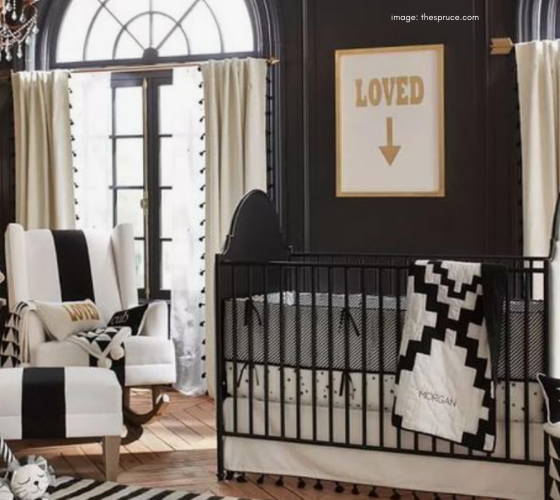 HOW DARK IS TOO DARK?
The first decision you need to make is how much you want to commit to the cause. Do you want to paint the walls black? Or would you rather it be a bold accent colour in a primarily neutral space?
Making this initial decision and commitment will be the base that we build the entire nursery from. For example, if you just want to have it as an accent tone in the space, then start with a neutral base and layer in different elements of black to bring your vision to life. Maybe you choose a black throw pillow, black metal table lamps and some black and white blankets to being the cozy into your nursery?
If you want to take this tone to the extreme in your space and make it BOLD my choosing to paint a focal wall entirely black, then this next tip is what you want to consider…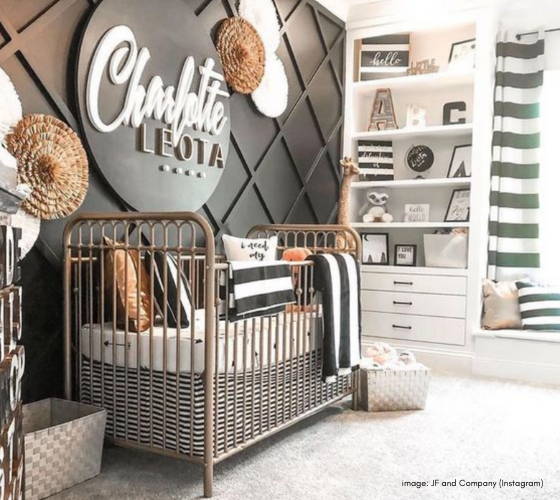 LIGHT (AND GLAM) IT UP
So you've bought the paint, the focal wall has been painting and you're feeling maybe a tad overwhelmed at how dark it's made the room feel. But don't stress! Here are some super simple guidelines to follow so you don't end up abandoning your design ideas out of fear and feeling overwhelmed:
BRING IN MORE LIGHT: When you have a very large space that is the focus in the room, in order to not take away from the beauty of that wall and to make sure the space feels cohesive and modern, consider balancing it out with white furniture. A black chair on the opposite side of the room can help balance the black in the space, where a white crib in front of your bold wall will help both pieces pop.
CONSIDER A TRANSPARENT CRIB: They're super modern and gorgeous as a subtly bold piece of furniture in a nursery. When placed in front of your bold wall, it will add a different element and interesting texture without covering up the black.
UP THE GLAM: Take your nursery to the next level by bringing in the glam! Gold is a gorgeous tone to add to the space - whether through a lamp, the pulls on a dresser drawer, or the throw pillows on the rocking chair - that will help to add more light but also more layers to the space to make it extra glamorous.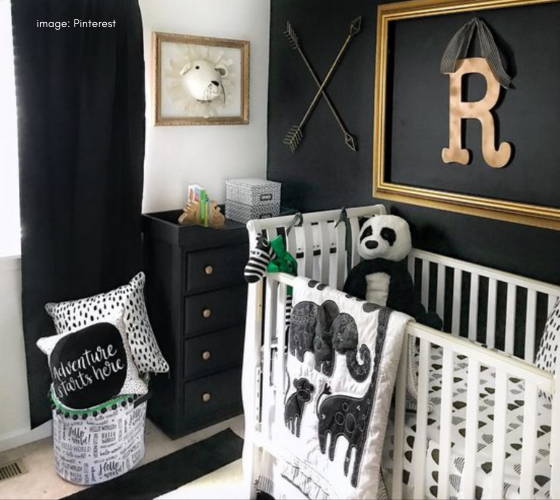 However bold you choose to be with your space, don't let dark colours like black scare you. You can easily create a gorgeous, modern, and unique space just by following these simple guidelines.
Want to add some personalization into the space too? Send me an email and I would love to work with you and the space you've created to create the perfect pieces to finish it off and bring your vision to life!