Hi Beautiful Mama or Papa! I see you.
You wear your heart on your sleeve for your child.
She may be just a few hours old or still baking in the oven, but you know this little piece of joy is your slice of the universe's pie.
You know that this little being is yours to nurture and deeply love on. You're ready for this immense responsibility or have been even before you even knew it.
You're nervous, you're excited, you don't have a manual to be the perfect parent (if there ever is such a thing), but you do have an internal compass that beams north on your babe.
If any of this rings true to who you think you are or going to be as a parent, then Hi! My name is Sophia, I'm that exact parent I described and I'm so happy you're here!
I'm also the founder and chief designer behind ChildBeWild and we'd be over the moon to be your design partners in parenting.
You could get a super cute ANYTHING ANYWHERE these days, but let me show you how ChildBeWild sets itself apart to be chosen by conscious parents like you.
#1: A Business That You Can Trust:
There are two gauges of how steadfast and solid a business is. The reviews they have from paying customers & the number of years they've been in business. These two are all that you need to know how trustworthy a small business is- especially when shopping online.
ChildBeWild for one opened it's virtual doors on Etsy back in 2011. We've grown year over year and learnt so much along the way.
We've been in business for the last 9 years now and so grateful for all the customers who trusted us to deliver on our promises.
We have hundreds of reviews- a lot of them we've moved over from Etsy and the most recent ones are from folks like you who've purchased from the website. You can browse through them all here.
We are good people that want to meet and support awesome parents like you by way of our work.

#2: We Create Meaningful & Purposeful Designs With Your Children In Mind
The very first design principle taught to us in architecture was "Form Follows Function".
Which means that the outward form of anything- whether it is a price of furniture, or a skyscraper or a 2-D design, will always be preceded by it's "function".
What is the purpose?
How does a design add to it's environment?
What can we do to bring a higher context to it?
These are just some of the questions that need answers in our design process as well.
The customers we're designing for are always front and centre in our minds and hearts, i.e, the sweetest little beings on earth- children. And at times, also their parents- especially when designing decor for nurseries. We know and almost feel the love you have for your child and you can trust that love will translate onto each piece of decor.
Know that every item you buy from us has a lot of meaning, purpose, love and joy put into it.

#3: We Help You Create Decor That Is Unique to Your Child.
Your child is a unique combination of culture, background, intellect, and heart. They also are or going to be their own unique mixture of personalities and quirks.
The more you shine a spotlight on all of these different aspects of their being- the more acceptance and self-esteem you bring toward themselves.
At ChildBeWild, we help you shine that spotlight by way of design. With ChildBeWild, you can add that special something to your child's room that will set it apart and also speak to your child's sense of identity.
That something was dreamed up keeping them in mind and often bearing their name on it has an unconscious but powerful effect on their minds!
And we make it as easy as pie for you to be able to do this with our custom request feature on the website.
All our products are open to be customized or even used as inspiration to work on your own ideas! Just contact us and we'll be in touch asap.

#4: Free, No-Obligation-To-Buy-Proofs: AKA You're Welcome To Window Shop With Us!
Whether your baby is due in the next six months or it's been six years since they've arrived, you are so welcome to window shop with us!
What do I mean by this? It means that if you'd like us to send you designs for say- a nursery rug- based on your requirements, without any obligation to purchase- you can absolutely do that!
We don't take your credit card info or any such crazy. There are companies that either ask you to make a purchase before sending a design proof and/or charge the customer extra in order to provide this service.
But at ChildBeWild, we think of it as a brainstorming session in helping you identify what direction you want to go in or simply bringing your ideas to reality. We understand well that not many people would be comfortable buying a customized piece of decor, simply on faith that it will turn out as they envision in their minds.
So come window shop with us with peace of mind! Let's discuss your ideas, show you some designs and THEN decide whether or not you want to make the purchase!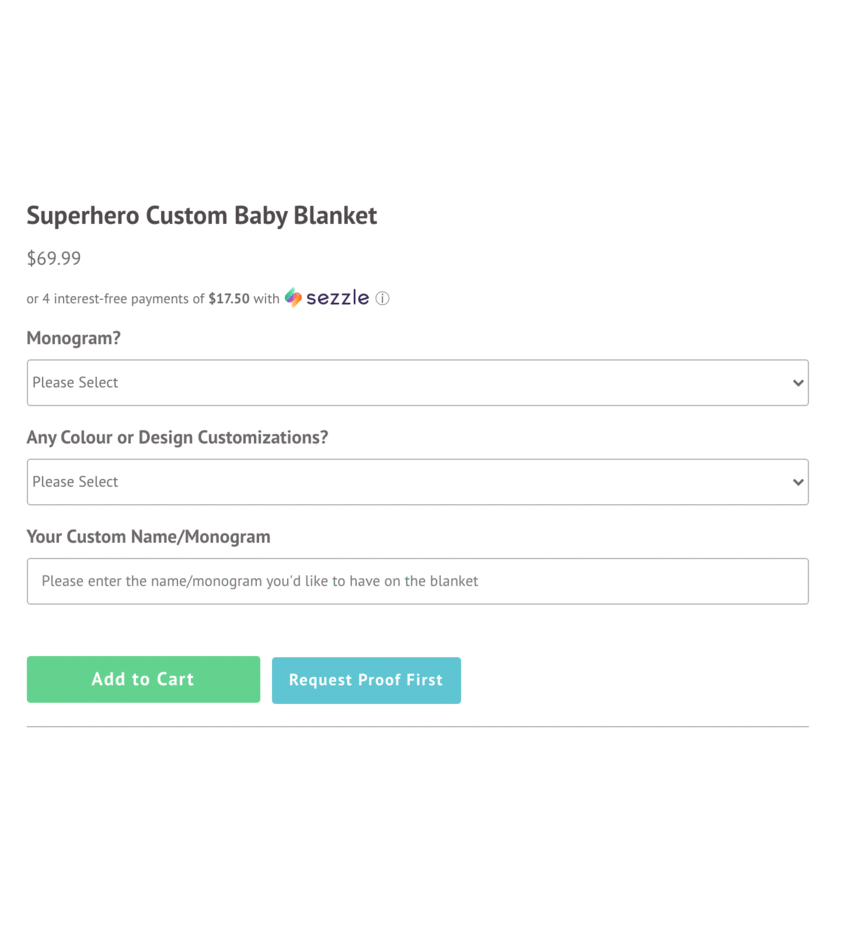 #5: Free Design Customizations & Name Personalizations:
Now I know the first thing that comes to mind when you read custom "anything" is- how many extra dollar signs are going to be attached to this?
And this is a very valid concern. As a consumer, I've seen custom jewelry charged by the letter. I've seen custom furniture charged by every additional peg added.
But not at ChildBeWild, no Ma'am (or Sir)!
We don't charge you an extra cent whether you want the colour of a dot changed on the design or you want us to design something completely from scratch to bring your vision to life.
We love the process of bringing creativity and beauty to your children's spaces and we want to make buying with us easy-peasy on you and your wallet!
#6: Individually Crafted In The US, Not Mass Produced Anywhere Else
For this we are so proud and grateful! To be able to produce all our items right here in the US is very gratifying.
All our products are made-to-order and hand produced only when we receive an order for it. We do not stock inventory nor do we ever want to! Yes, the cost of production is higher than it would be if we made 10000 pieces vs 1 at a time, but there's so much good in adopting this method of production, that it's so okay for us to take that hit.
For one- only what is wanted gets produced. No stockpiles of stuff clamming up our planet's resources.
Second & just as important- we're supporting the local economy. Which in the current times is imperative to support & fuel!
#7: Get Free US shipping Always: Free To Your Door Delivery Anywhere in The US
I LOVE free shipping! I mean who doesn't?! As a savvy online buyer myself, I really dread going all the way to checkout to understand my shipping costs in order to decide whether or not it makes sense for me to purchase this stunning-whatever's-in-my-cart. Also, I can use whatever little space I can save in my head doing math toward my daughter's school work!
So I knew we wanted none of that confusion on ChildBeWild. We have a straightforward free shipping anywhere in the US standard shipping policy.
There's absolutely no guesswork regarding the final costs of your purchase. The shipping will remain "$0" at checkout 🙂 Here's where we detail it all, if you'd like more information.

#8: From Our Family To Yours:
ChildBeWild is a very small family business, with a very large heart. We love serving parents and their beautiful children and we're here for the long run.
I'm a mom myself to a ten year old, a wife to my husband of 12 years now!
ChildBeWild is my second baby and we treat everyone with the same kindness and love with which we would treat our family and friends.
Here's my little familia sending yours lots of love and hugs!!
Sophia Gandhi
Welcome to ChildBeWild.com, where we design beautiful, meaningful decor for babies & kids. Our blog here is a design playground where I explore concepts and ideas around building spaces for our young ones! I'm also Mama to a sprightly 10 year old who is the inspiration behind everything you see on ChildBeWild.